Euro Sense nail treatments are packed with vitamins and moisturizing factors to help strengthen and repair nails, making them look healthy and strong!
Solving your ingrown nail issue is now simple, quick and painless with a brace!
Nail masks help strengthen brittle nails and soften cuticles. This will make your nails a lot more resistant towards wear and tear.
The nail ampoule is highly concentrated and it deeply conditions delicate and dry nail skin area with deep nourishment and moisture.
Euro Sense offers exquisite nail masks, scrubs and lotions to give your nails the essential care to restore its natural healthy looks.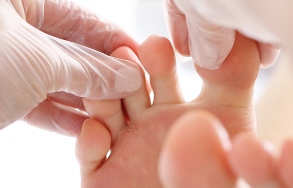 Callus Treatment
Calluses are thick, hardened layers of skin that develop when your skin tries to protect itself against friction and pressure. With our Callus Treatment, we will be able to help you fix that issue.
Footlogix Treatment Set
Footlogix treatment helps to rejuvenate and beautify the feet and even has history of positive effects since the ancient times