S$5 deposit is required to confirm your appointment.
This amount will be offset from your total bill.
CXR Body Therapy
Utilizes Circulation, Excretion , Replenishing to help your body achieve a balance state.
Untie Muscle Knots
Boost Meridian Channel Circulation
Excretion of Toxins and Improve Vitality
Maintain Body Yin-Yang Balance
Provides total relief after massage
Treatment combined with natural Chinese Herbs while using an exclusive formulated massage technique to ensure that herbs are fully absorbed by the muscle tissues.
The V-Lift masks contain a very high concentration of PEPTIDES and COLLAGEN
Peptide Functions
Stimulates FIBROBLAST production
Strengthen KERATIN and ELASTIN in our skin
Increase Skin Firmness 8 to 13% per treatment
Targets on larged pores, wrinkles, saggy skin and face contours
Send signals to the brain to PRODUCE NEW COLLAGEN
With the use of our aesthetics machine alongside our topquality aesthetics products, the treatment will greatly enhance your skin's firmness
Thomson Plaza #01-89/90
Beauty & Wellness Services
Address : 301 Upper Thomson Road,
Thomson Plaza, #01- 89/90
Tel: 6451 5568
Parkway Parade #05-18
Beauty & Wellness Services
Address :80 Marine Parade,
Parkway Parade#05-18
Tel: 6346 7372
Esther Hee Xuan Yi
10 Years Customer
I've been with Euro Sense for 10 year already, in the past I had serious acne, went to many clinics for treatment but all failed.
I then came across Euro Sense and started facial treatment with them and my face gradually recovered from acne.
I've also gone to many other places for facial just to try out however, I still prefer Eurosense as they provide the best treatment. I always feel refreshed after the facial and they really care for your skin. If you're looking for facial treatment. I really recommend Euro Sense.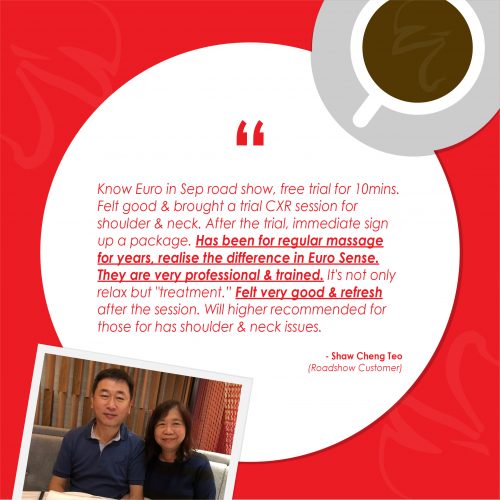 Shaw Cheng Teo
Roadshow Customer
Know Euro in Sep road show, free trial for 10mins. Felf good & brought a trial CXR session for shoulder & neck. After the trial, immediate sign up a package. Has been for regular massage for years, realise the difference in Euro Sense. They are very professional & trained. It's not only relax but "treatment." Felt very good & refresh after the session. Will higher recommended for those for has shoulder & neck issues.
Ding FangFang
Regular Customer
Have been doing CXR ovary and breast therapy fora few times with Therapist Michelle. She done a good job and CXR really helps me to improve my body condition in a few trts. Will definitely recommend to people who needs it. Thank u.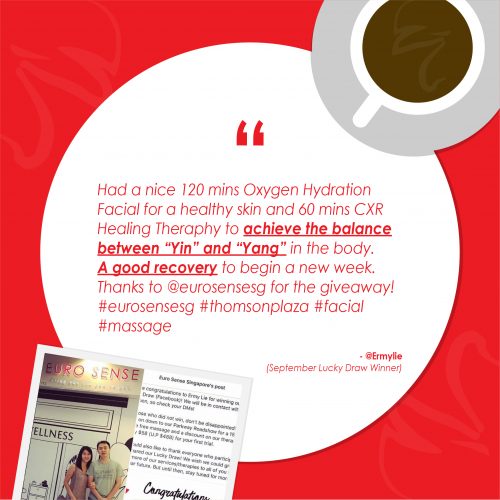 Ermylie
September Lucky Draw Winner
Had a nice 120 mins Oxygen Hydration Facial for a healthy skin and 60 mins CXR Healing Theraphy to achieve the balance between "Yin" and "Yang" in the body. A good recovery to begin a new week. Thanks to @eurosensesg for the giveaway! #eurosensesg #thomsonplaza #facial #massage
Evelyn Seah
Facebook
The treatment message is effective in treating my shoulder and stomach bloating problem.
The eye treatment I received is very relaxing too.
Judy Lim
7 years customer
Since 2011 i have been with Euro Sense Parkway and enjoyed their massage.
Recently their treatment massage has improved my fingers numb problem,