Lymfossa Detox Facial
What is Lymfossa Detox Facial?
Lymfossa Detox Facial uses the latest hydrating and transdermal nanotechnology to activate the 9 lymphatic channels in our face and 3 lymphatic fossa points. 3 in 1 facial therapy works by stimulating your meridian points, detoxifying facial, head, neck lymphatic fossa through lymphatic channels and also by using natural ingredients to promote natural radiance on the face.
The Lymfossa Facial Therapy provides great lifting effects that reduces wrinkle appearance on the face. You will be able to see immediate difference after the therapy session. Skin will appear radiant, young and healthy after just one session.
Provides deep hydration and brightening effects
Balance out skin's PH value
Strengthen immunity of skin and help to protect against UV rays
Protect skin against radiation
Break down melanin cells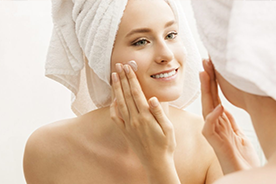 Neck Lymfossa Therapy combines the latest hydrating and transdermal nanotechnology to provide uplifting effects from the neck. The unique uplifting techniques aids in lymphatic drainage to provide you with swan like neck.
Refines fine lines on the neck
Elevates stiff neck by promoting blood circulation
Provides detoxification through lymphatic channels
Aestheticsc V-Lift Facial Treatment
What is Aesthetics V-Lift Facial Treatment?
Most Advanced American Aesthetics Treatment.

A Face contouring treatment without the use any injections.

A Replacement for Botox or Hyaluronic injections.
The V-Lift masks contains a very high concentration of Peptides and Collagen.
Peptide Functions :

Stimulates Fibroblast production
Strengthen Keratin and Elastin in our skin
Send signals to the brain to Produce New Collagen
Treatment Benefits :
A Face Contouring Treatment without the use of any injections
Uses an Aesthetic Machine to increase Skin Firmness by 8 to 13% per treatment
Target on Enlarged Pores, Wrinkles, Sagging Skin & Face Contours